The 75 mile long river Tywi (Towy) rises in the Cambrian mountains 6 miles above Llyn Brianne and runs through the Rhandirmwyn valley on its way to the sea in Carmarthen Bay, along the way it is joined by a number of tributaries.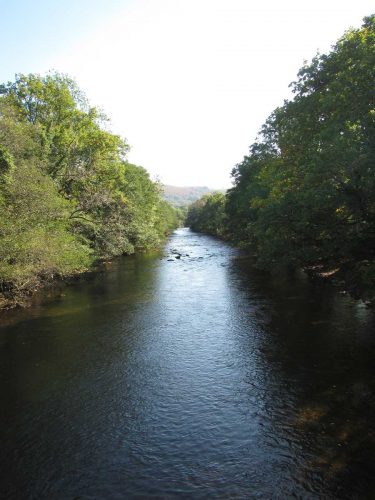 The river was renowned as providing the best Sewin (Welsh for sea trout, a migratory form of the native brown trout) fishing in Britain and Europe, the quality of fishing being unmatched anywhere; there is also a run of Salmon. Brown trout and some pike are present throughout the river, shad and sea lampreys spawn in the Towy and in 1933 a 388lb sturgeon was landed by an angler http://www.riverannan.co.uk/monster.htm. So you never quite know what may be around the corner in the next deep dark pool.
The fishing on the Tywi is not what it was a generation ago and the river system is beset with problems that negatively affect migratory species, the decline started with the building of Llyn Brianne reservoir which officially opened in 1973, but many other problems have contributed to the deterioration in runs of migratory fish. On a positive note, work is ongoing to halt this downward spiral and the upper river is a beautiful place to be and still well worth fishing, especially when conditions are favourable.
Day and weekly tickets for much of the Tywi upstream from Llandovery may be purchased from Rhandirmwyn village pubs; The Royal Oak and Towy Bridge Inn, one or other being open every day of the week. More information on ticket prices and maps are available here: https://www.llandoveryaa.co.uk/
The Wye and Usk foundation also provide day ticket fishing through their passport scheme, with plenty of fly fishing (wild brown trout and grayling) on the river Irfon from Builth Wells upstream to Llanwrtyd Wells, a 25 minute drive from Rhandirmwyn. https://www.fishingpassport.co.uk/fishing/irfon-and-ithon . There are also beats available on other West Wales rivers; the Towy, Cothi and Teifi being the closest, further afield both game and coarse fishermen are provided for in rivers and stillwaters.
For the coarse fisherman, Springwater Lakes on the A482 towards Lampeter is a 25 minute drive away and the closest available fishing. With a number of lakes it provides for the complete beginner (excellent for children) to the serious specimen hunter with carp to 35lbs. There are full facilities on site including a small tackle shop with day tickets available there from 8am,
this makes for a most enjoyable day out with prolific fishing for all abilities. http://www.springwaterlakes.com/facilities/fishing/
Everyone over the age of 13 years requires a rod fishing licence to fish in England and Wales, from 13 – 16 years a licence is required, but is free of charge. All licences are available as single day, 8 day and 12 month duration and relevant fees apply. Further information and purchasing may be done here: https://www.gov.uk/fishing-licences the Environment Agency government fishing licence is separate from your fishing ticket and must have been acquired before commencing fishing.
Before fishing (especially game fishing) take time to check the local byelaws for the river, these include fishing seasons and methods allowed. These byelaws may change annually and mandatory catch and release for all salmon and sewin is possibly imminent. https://naturalresources.wales/days-out/things-to-do/fishing/?lang=en
All fishing, boating and swimming in Llyn Brianne reservoir is strictly prohibited.