The opportunities for walking in the Rhandirmwyn valley and surrounding hills are near endless for those who wish to explore the countryside. The river valley itself provides more gentle walks along various public rights of way, but the surrounding moorlands and forestry plantations rise to around 400 metres and from many points there are views of the whole Brecon Beacons to the south and hills of the Elan valleys to the north.
Much of the countryside and forestry is designated as "open access", these areas are marked on Ordnance Survey Explorer 1:25000 maps, the relevant map for this area is Explorer 187. If walking on the uplands it is important to carry a navigation system, either GPS or map and compass, if visibility is lost it can become very disorientating as many paths or tracks are faint or not there at all.
Footpaths and bridleways are a bit hit or miss, some are well used and marked but others that are unused are frequently overgrown or in disrepair, with way-marking erratic. It is worth making local enquiries before setting off on a more adventurous trek. At Llyn Brianne dam (grid reference: SN 793 484) there is a car park and toilets, from here you can walk around the lake and through the NRW forestry on the other side. Also Cwm Rhaeadr forestry (Grid ref: SN 765 422) has marked walking trails, a picnic site, horse riding and mountain biking Click here to find out more.
Be aware that sometimes forestry operations are ongoing and some areas may be closed for felling and extracting timber, with large machinery and lorries operating there. Signs restricting access to public should be observed.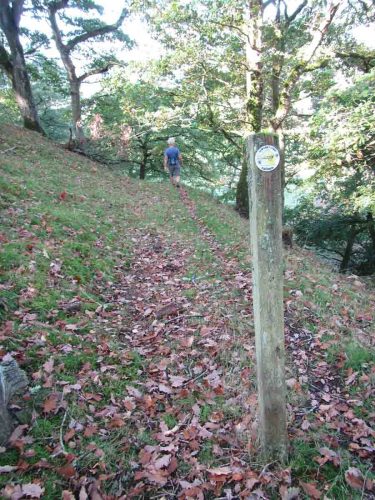 Rhandirmwyn is situated on the Cambrian Way, a 290 mile unmarked long distance trail from North to South Wales also known as the Mountain Connoisseur's Walk, this crosses the finest mountain landscapes through Wales and the village is frequently used as an overnight stop by hikers. http://cambrianway.org.uk/index.htm
The caravan club site registration office have leaflets describing some local routes to walk around the village area, these are available for a small donation into a charity box, they also have a waterproof map of the area which is at 1:16000 size and taken from the larger OS Explorer map, these retail at £3.99 and are pocket sized.
When out please follow the countryside code Click here to find out more. We are in the heart of sheep country and they are in most fields and roam free on all uplands, so please ensure dogs are under control or on a lead as sheep worrying is not tolerated.